The Paper Party Bag Shop was launched in 2018 by Liz Etches to bring non-plastic, eco-friendly and – most importantly – fun goodies to the ubiquitous take-home party bags for kids' birthday parties. Liz, who before the birth of her two daughters worked in both advertising and the music industry, was amazed that there wasn't already an easy solution to eco-friendly bag fillers.
"There were 24 kids coming to the party, it was so stressful and I just couldn't believe how few non-plastic affordable options there were. There were some great things I could buy as an alternative gift but they were so expensive! Where was the good party bag solution for parents who didn't have time to faff about making things?".
In recent years, party bags have become the number one must-have item at kids birthday parties, with a recent poll run in The Times finding the average spend has increased to a minimum of £40.00 per party. At the same time, there has been a drive for people to show awareness around waste and a desire for party items to feel more personal and hand-picked.
"I realised when sourcing stock that many of the paper toys I found were wrapped in plastic, so thinking about these in bulk was devastating. I realised that in order to have toys I was happy with I would have to make them. Being creative it was something I got very excited about and I will be adding a new product each week for the next year. I have found a few suppliers who support our values and am always on the look-out for more."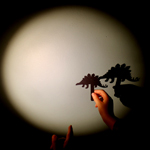 The result of Liz's efforts is a fantastic new online shop which sells paper party bags in a variety of colours, tied with raffia string and a thank you tag; plus an assortment of cute party bag fillers – including items such as origami animal kits, shadow puppets, and cardboard frames, money boxes and other items for kids to decorate themselves. New items are regularly being added, so there will always be lots of fresh and interesting stock to choose from.
For more information, take a look at The Paper Party Bag Shop's website, where you can also browse their full range of products. If you have any queries, Liz can be contacted by emailing hello@thepaperpartybagshop.com or by calling 07811 185059.
You can also follow Barnes Mums on Facebook, Instagram and Twitter, and sign up for our newsletter and membership card.