Sports Academy UK offers children aged between 4 to 16 years old a multi-sports programme of 18 different sports a year. Sports Academy UK coaches an exciting and action-packed programme, comprising three hours per session for the 'Main School' students (6-16yrs) and 90 minutes for 'Little Sporties' (4&5yrs). The lovely thing about Sports Academy is the variety of activities that are on offer – each weekend your child will participate in a team sport, an individual sport and a team building challenge.
There are a number of Sports Academy venues around London, and we're lucky to have one close-by in Richmond. Their programme of sports includes archery, fencing, netball, basketball, hockey, gymnastics, lacrosse, tag rugby, tri golf, kwik cricket, short tennis, martial arts, football, badminton, tambourelli, tchoukball, handball, speed stacking, athletics, volleyball, and much more!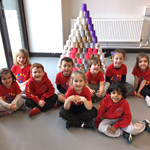 Sports Academy's qualified coaching staff all have DBS certificates, many teaching sport in schools around the county. They supply all the equipment for the children, and all new students receive a FREE club T-shirt on their first day of term. New students are buddied up with current students to help them relax, and make them feel as welcome as possible. The Academy is a great place to make new friends, and many students have trained with them for at least three years or more. Sports Academy is also OFSTED registered, and accepts Childcare Vouchers.
There are lots of reasons for children choosing multi-sports, rather than specialising in one sport:
Fewer over-use injuries: Growing bodies can become over-stressed by repetition, leading to injuries. Studies show that coaching children in multi-sports can lead to better muscle, motor and skill development – promoting general athleticism, balance, speed and agility.
Less opportunity for emotional burn-out: Children focussing so much time only on one sport risk tiring of sport altogether. Having a variety of experiences keeps things interesting.
Transfer of sports skills: Skills transfer from one sport into another – ball tracking, hand to eye co-ordination, quickness, running, jumping, agility and throwing.
Exposure to different roles: Being a team player in e.g. basketball, is a different experience to being a team player in hockey or football. Children learn different supporting roles, communication and team play.
Not putting all your eggs in one basket: Playing only one sport limits your options. An injury, a bad experience, a reduced role in a more competitive team can bring an abrupt end to an athletic career.
Sports Academy Richmond is based at Christ's School, Queen's Road, Richmond TW10 6HW. Classes are held on Sunday mornings, at 9.00am or 10.45am for Little Sporties (4&5yrs) and at 9.30am for the Main School (6-16yrs). For more information, take a look at their website, or you can contact Grant Felix by calling 0800 024 8842 or 07764 211489, or by emailing grant@sportsacademyuk.com. You can also follow Sports Academy on Facebook.
You can also follow Barnes Mums on Facebook and Twitter, and sign up for our newsletter and membership card.