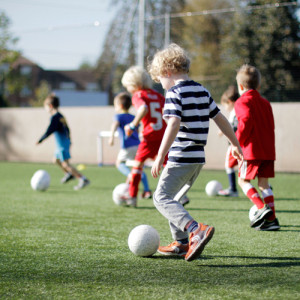 Rocks Lane Multi-Sports Centre has been part of the Barnes community for over 25 years. It has built a reputation for delivering excellent coaching, all weather facilities, and a diverse range of sporting opportunities. These include mini multi-sports, Friday Night Fives football, Friday High Fives netball, tennis development programmes and tournaments, holiday sports camps, and children's parties for all ages.
Rocks Lane prides itself on creating a sporting environment that offers children of all ages the opportunity to play, learn and ultimately compete in their chosen sport.
The quality and scope of Rocks Lane's coaching is a key aspect of what sets Rocks Lane apart from other sport providers. Rocks Lane Barnes has a dedicated team of coaches who are qualified specialists in their chosen sport of football, tennis, netball or multi-sports development. The coaching programme follows the Rocks Lane philosophy of 'play, learn and compete' and coaches are passionate about the developmental benefits of sport – with each class having been built carefully over time to create the optimum balance of physical, technical, social and play aspects of each activity.
Outside of coaching, children can take part in the well-known Friday Night Fives football league or Friday Night Fives netball league which are open to children in Year 1 upwards. It's a little known fact that this is the longest-running children's sports league in West London and it all started in Barnes!
Rocks Lane Barnes is also highly experienced in organising sporting birthday parties for all ages. Hosted by one of their coaches, children can enjoy an hour of active fun before tucking into a healthy birthday tea in the Club House.
Outside of term time Rocks Lane Barnes runs a range of fantastic holiday camps including mini multi-sports for ages 2+yrs, and great skills-based football camps open to both boys and girls from 6yrs upwards. As part of the holiday camp programme, Rocks Lane offers a great value camp credit system which allows parents to pay by the day or the week, and the best thing is that they never run out! If you are a Barnes Mums member, you can also get 5 Free Holiday Credits, worth £55.00. Simply show your Barnes Mums card or quote its number when booking.
Rocks Lane Barnes can be found on Rocks Lane (opposite Ranelagh Avenue), Barnes SW13 0DG. It is open from 10.00am-10.00pm Monday to Friday, and from 9.00am-5.00pm on Saturdays & Sundays. You can find out more on their website, or contact them by calling 020 8876 8330 or emailing barnes@rockslane.co.uk.
You can also follow Barnes Mums on Facebook and Twitter, and sign up for our newsletter and membership card.