We love Osterley Park & House – it's a local gem and must be one of the best National Trust properties there is to enjoy as a family.
The House itself is full of sumptuous rooms, as you'd expect from the National Trust, with many features, paintings, tapestries and items of furniture to admire. The basement area is also open to the public, making an interesting tour of the servants' rooms and offices. One of the unusual things about the House though, is that when architect Robert Adams was commissioned by the Child family to redevelop the house in the 1700s, he incorporated a multitude of marigold flower motifs.  The marigold was the symbol of Child's Bank, also owned by the Child family and presumably the reason for their great wealth, and are everywhere – in the door paneling, carpets, furniture and decorations. There are counters available for children to try to count the marigolds, which is actually an impossible task (but don't tell them that!). Children can also borrow a wooden 'compass' featuring some exotic animals that can be sought out in the various rooms of Osterley.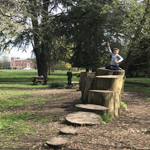 In the old stables and courtyard next to the House, there is of course the ubiquitous National Trust cafe and shop, selling a range of hot and cold food, drinks, souvenirs and other goodies. The stables have plenty of internal seating available as well as a lovely pebbled outside area at the back, and lots of tables and benches in the courtyard area to the front.
The Gardens of the house are a real treat. As well as plenty of green space and little external buildings to explore, there's the 'Long Walk' around the outskirts of the gardens which incorporates a brilliant play trail for the kids. On the play trail, there's a long log obstacle course, massive rope swings, and large den building area in the woods (where there's also a special tree which children climb to see if they can get high enough to ring a bell). There are a few tables and benches along the trail too, making it a perfect place to enjoy a picnic. During the school holidays, there are usually special activities on offer, such as '50 Things To Do Before You're 11¾', 'Craft Cart' and a family gardening club.
Osterley Park is the park area in front of the house, and this can be enjoyed without paying admission to the House & Garden (although you will need to pay for parking unless you're a National Trust member). The Park is enjoyed by the local community and is always pleasantly busy with families enjoying the sunshine during good weather. There is often free equipment laid out for people to borrow, such as table tennis, badminton and cricket, and from Spring to Autumn there is kayaking and paddle boarding on Middle Lake, which is run by The Sharks Canoe Club. There is also a weekly Parkrun & Junior Parkrun, occasional outdoor theatre and cinema, and lots more going on, so make sure you check their website for some inspiration!
Osterley Park & House
can be found on Jersey Road, Isleworth TW7 4RB (sat nav TW7 4RD). They can be contacted by phoning 020 8232 5050 or by emailing osterley@nationaltrust.org.uk. For opening times please take a look at their website.
You can also follow Barnes Mums on Facebook, Instagram and Twitter, and sign up for our newsletter and membership card.