A fun new science class for pre-schoolers has arrived! Mini Professors is the first science program that has been designed specifically for pre-school children. Classes are now available in East Sheen and Teddington. You can book online.
Mini Professors is an exciting programme which opens up a whole new world of scientific adventure to pre-school children. Each 40-minute session follows a set format and is packed full of experiments, singing, and stories, making science fun and enjoyable for pre-school children. With 72 different topics spanning two years, children learn something new each week, investigating unusual subjects such as germs, chromatography and making clouds , as well as all-time favourites such as dinosaurs and space. The sessions provide a warm environment in which the children can explore and marvel at science, and also learn many life skills such as asking questions, taking turns, sharing and socialising. They get to wear their own mini lab coats and learn about the basic principles of scientific experimentation, whilst having loads of fun and generally getting stuck in.
The Mini Professors programme has been designed specifically for 2-4 year olds, with separate sessions for 2-3 year olds and 3-4 year olds. A typical session starts with a welcome song, and then incorporates a story and two-minute bespoke video about the topic of the day. It's lots of fun and there is normally a 'I didn't know that!' moment for the parents too. There are two hands-on experiments where the Mini Professors are encouraged to join in (and maybe get messy!) – all the activities are concise and interactive, catering for the many different learning styles and keeping the little ones' attention. Children love to get involved in the experiments and it's a great opportunity to prepare them for pre-school and school. The grownups are also encouraged to join in, and can easily carry on the learning experience at home with their children.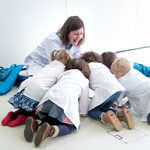 Classes take place on Wednesdays at Pandemonium, 125 Sheen Lane, East Sheen SW14 8AE, and on Thursdays at Teddington Baptist Church, Church Road TW11 8PF. For more information or to book, you can take a look at the Mini Professors website. Experience the fun of learning science at Mini Professors!
You can also follow Barnes Mums on Facebook, Instagram and Twitter, and sign up for our newsletter and membership card.