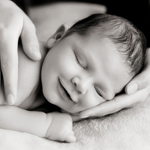 Magic Rainbow Photography provides professional, creative and fun children's photography throughout Twickenham, Teddington, the Hamptons and surrounding areas. Marta has been a photographer for over 10 years, with experience in the fashion, travel and music industries, but what inspired her the most were the people in front of her camera. She realised that her most memorable subjects were children, so launched Magic Rainbow Photography in 2011.
A photography session with Marta is relaxed and informal, and she adapts the style of the shoot to the mood and character of the baby or child. The photoshoot takes place in the comfort of your home or outside on location. For babies, Marta sets up a small studio corner and takes as long as needed to get the right shots. She allows lots of time for feeding, cuddles, nappy changes and sleep to make sure the little one is feeling comfortable and happy. For older babies and children, the shoot can take place in a local park, riverside or other favourite location. Activities like walking the dog, kicking a ball or just playing in the garden are great for spontaneous and candid pictures. Although some direction will be given during the session, Marta's aim is to capture families in a natural and informal style. Her main priority is to create beautiful and timeless pictures to cherish… pictures that make you go "Ahhh" time after time.
A newborn photography session is best done before the baby is two weeks old, so it's a good idea to book your shoot well in advance to make sure you are able to capture those early days. This is the time to get those sleepy, serene pictures when babies are not yet aware of what is going on around them, and are often in gorgeous curled up poses. Older babies are more alert and curious about their surroundings, are can produce lovely results with their giggles and funny facial expressions. Although there is no time limit for sessions, younger children normally get tired quickly, so Marta tries to make the most of the first hour or two.
Marta is also refreshingly up front about pricing. There are no hidden costs or hard selling, but instead she operates a number of packages. Prices start from £200.00 for a one-day baby photoshoot package, including two 20x30cm prints. There are various different packages to suit every budget.  You can also get 10% off any package with Barnes Mums, and Barnes Mums members can also get a free print with all digital packages.
For more information, take a look at the Magic Rainbow Photography website. You can also contact Marta by emailing info@magicrainbowphotography.com or phoning 07946 380581.
You can also follow Barnes Mums on Facebook, Instagram and Twitter, and sign up for our newsletter and membership card.