From A Mother To Another's 2019 collection takes place from 1st to 31st March. Please drop off your unwanted clothes to your nearest JoJoMaman Bébé store.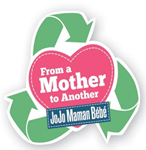 From A Mother To Another is a charity initiative from JoJo Maman Bebe. Launched in 2016, it is an annual collection of children's clothes, which aims to help vulnerable Syrian refugee children in Lebanon and families in crisis in the UK and Ireland – at the same time reducing the shocking levels of clothing waste that end up in landfill.
JoJo Maman Bébé will be collecting good-quality outgrown or unwanted baby and children's clothes in sizes 0-6 years as well as children's shoes. Customers are asked to put together complete outfits sorted by size, sex and season, with shoes in a separate bag, and take them to one of their 87 stores across UK and Ireland. A full list of stores can be found here. For full details of how to donate, please visit the JoJo Maman Bébé website.
Laura Tenison, founder & CEO of JoJo, visited Lebanese refugee camps in early 2016. Two years on from Laura's visit and seven years on since the war began, the 1.1 million refugees living in the Lebanese camps are still in dire need of help. On her visit Laura saw millions of women and children living in makeshift tents in urgent need of emergency humanitarian aid. They had left with whatever they could carry, and the children were in ragged and outgrown clothes – Laura felt she had to help. JoJo Maman Bébé has since partnered up with several charities in Lebanon. Patricia Hasbani of Offre Joie thanks everyone who has donated to the campaign in previous years: "It is with great pleasure that we are able to thank you for giving the chance to Lebanese and Syrian children to feel warm, and make them feel they are not left alone to face their hardships."
Laura Tenison explains: "Our FAMTA clothing gift bags are distributed to families living in the Bekaa Valley along the Syrian border, who want to head home as soon as the fighting stops. Our customers have been amazing – by packing their children's outgrown clothes into lovely outfits they give a moment of hope and joy to people who have struggled for many years. We are so proud that this simple initiative also extends the life of clothing many times and helps to reduce landfill."
In the UK, emergency clothing packs will be distributed by some of The Trussell Trust's 428 food banks. Sam Stapley, Operations Manager at The Trussell Trust states: "Over a third of the almost 1.2 million three-day emergency food supplies provided by The Trussell Trust's foodbank network last year went to children, and it's all too common to meet parents at food banks who have been skipping meals so their kids don't go hungry. Things are difficult for lots of families at the moment. That's why we're really pleased to be working with JoJo – From A Mother To Another is a perfect way for one mum to bring a little light and a lot of comfort to another."
Nearly a third of the UK's clothing ends up in landfill, equating to 350,000 tonnes a year. By extending the life of clothes by just three months, carbon and water waste could be reduced by up to 5-10% a year. Sending good quality, little-worn, hand-me-downs to those in need means they are worn by many more children, extending the clothes' lifespan. JoJo Maman Bébé will cover the extensive costs of checking, sorting, shipping, customs clearance and managing the logistics of delivering the parcels to the partner charities in Lebanon and to The Trussell Trust's Foodbanks across the UK.
Main photo: ANKARA, TURKEY – 11TH FEBRUARY 2015: A Syrian child who fled with her family from attacks of Islamic State of Iraq and Levant (ISIL) from Syria, is seen in front of a hovel as they live in harsh conditions in cold winter time in Turkey's capital Ankara's suburbs. (Photo by Gokhan Balci/Anadolu Agency/Getty Images)
You can also follow Barnes Mums on Facebook and Twitter, and sign up for our newsletter and membership card.