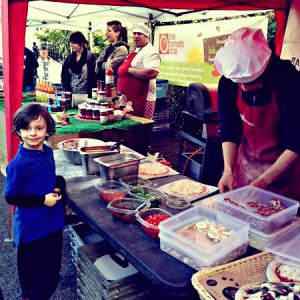 On Saturday mornings you'll often find us by the duck pond opposite Essex House Surgery, just off Station Road. Yes, we do like to feed the ducks, but we're just as likely to do be doing our weekly shop at the fabulous Barnes Farmers Market. Approximately 20 producers are on hand to not only sell their often award-winning produce, but also to chat, help, and advise on everything from production methods to ingredients to traceability.
The Barnes Farmers Market offers the best in organic and free range meats from Somerset and Nottinghamshire; fresh fish from Dorset; fruit and veg from Kent; fine bakery products from companies such as Celtic Bakers (a speciality baker of organic breads handmade and baked on the stone sole of the oven); luxury cheeses; handmade pies; organic olive oils; and homemade apple juices. With a little careful planning you can do most of your weekly shop here. And with stalls cooking sausages and bacon sandwiches you can even enjoy lunch before heading back for one final spot of duck-watching.
As an outdoor market there is plenty of room to push buggies around. The stalls can be a little tightly packed (doing their best to get as many producers in to the space) but there's always room around the edges. And you're just yards away from all the other shops, restaurants and pubs in Barnes, offering toilet facilities and baby changing facilities.
The Barnes Farmers Market, one of the oldest farmers markets in London, calls itself a 'Food Lover's Haven' and it is, though we like to think of it as possibly a food lover's heaven too. You can find this little corner of heaven every Saturday from 10am to 2pm on Station Road, outside Essex House Surgery. Just by the duck pond.
http://www.barnesfarmersmarket.co.uk
You can also follow Barnes Mums on Facebook, Instagram and Twitter, and sign up for our newsletter and membership card.